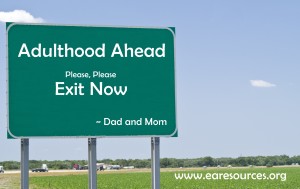 If you feel as if nobody else's children have problems…
If you wanted an empty nest, but have only gotten an empty wallet…
If you feel as if your kids will not pass history, let alone graduate…
If you feel as if you pray, and pray, and pray, and see no change …
You are not alone, but normal.
Welcome to normal.  We can help.
EA Resources is dedicated to helping the parents of Emerging Adults.  We hope that these resources will encourage you on your journey.
EA Resources is committed to helping you cope with the stresses and challenges of parenting after high school.  Each phase of parenting requires a new set of skills and tools.  As you learn to parenting during this phase of your child's life, we hope to provide you with the resources and encouragement that you need.
If you have a specific question that you would like to ask, please contact us.
Recent Posts more