This week, I am presenting a conference for parents and adolescents on Autonomy this Saturday, November 7 at Christian Life Academy in Farmington, Minnesota.
This workshop is completely free, but to help us prepare we are requesting that you please RSVP to Miss Heather Meyen, 651-463-4545 or hmeyen@christianlifeschool.org if you plan to attend.  This unique workshop is designed for parents of 7th-12th graders and their students to attend together!

Who's the Boss?: Directions to Adulthood
Autonomy is an essential developmental step towards becoming an adult.  This seminar is designed to increase communication and improve your relationship with your child as you together explore the Biblical definition of autonomy.  We will begin by exploring what autonomy means, and then give you and your child opportunities to evaluate their journey towards adulthood.  The morning will include several conversation breaks for you and your child (discussion questions provided) that will cause you to think, listen, laugh, and grow.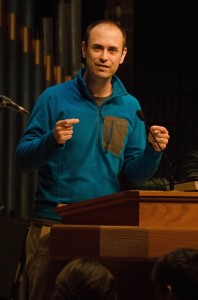 If you are interested in hosting a conference or workshop with Dr. Boyd, you can reach him at gdavid@earesources.org.